Grade Exams Guitar Lessons Surbiton Kingston London
Many students of all ages find that the process of working through a graded repertoire of pieces, scales, and exercises gives them a disciplined approach to regular practice and allows them to gauge how they are progressing, regardless of whether they take an exam or not.
Read much more - continued...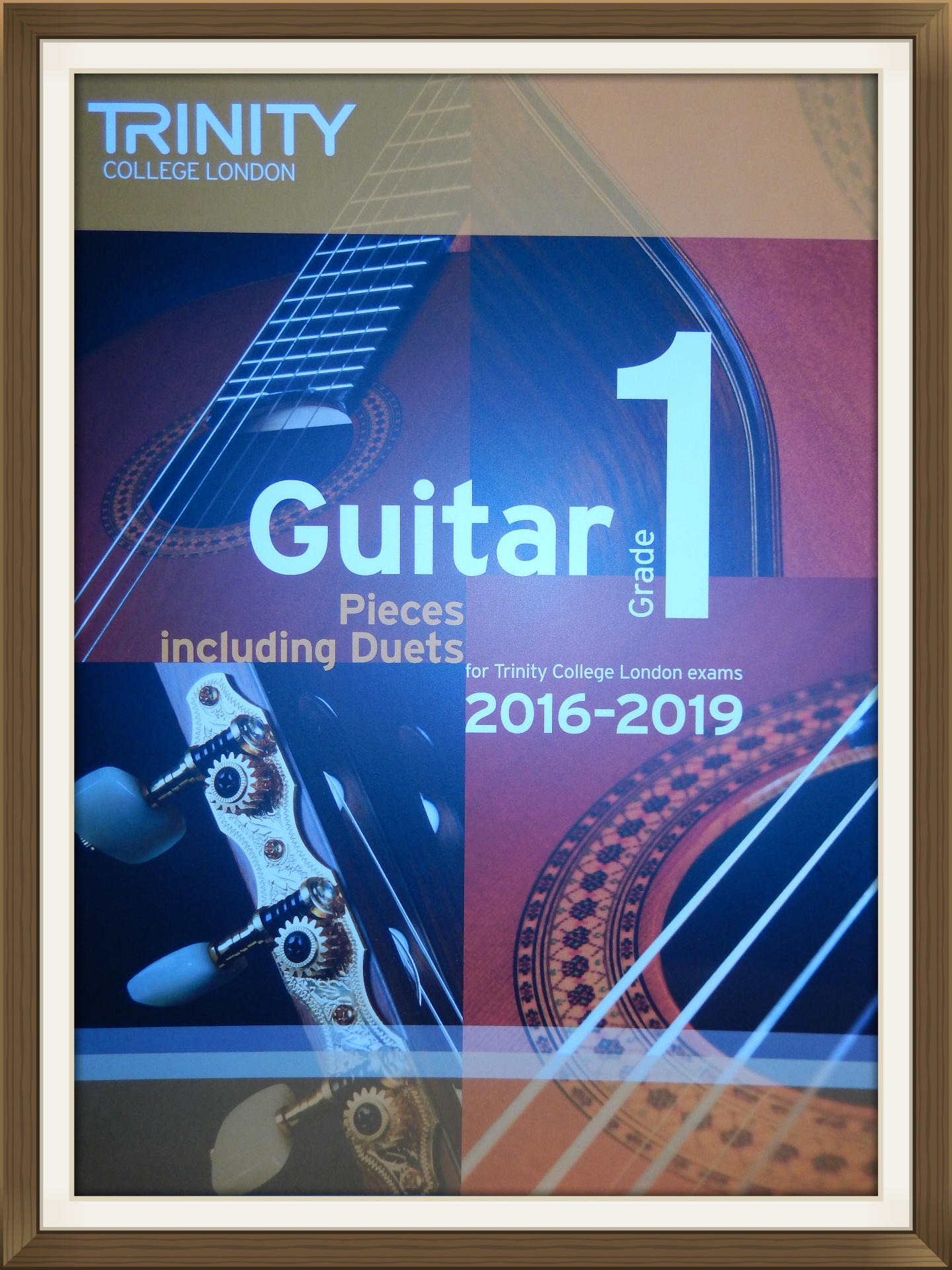 Working through a graded syllabus repertoire may afford students the OPPORTUNITY to be able to take a grade exam at a later stage if they wished to do so. However, it should not be inferred that a student who works on graded material must take any exams.
Working on a syllabus repertoire simply keeps the option open for the student to take an exam later if the student wished to do so. Without doing the musical groundwork, which obviously takes time, there can be no exam option!
Music grade exams are completely voluntary -
Some students may not wish to sit an exam but could still benefit from learning graded material pitched at their level of ability. And so...
Graded material may be included as part of lessons for ALL students whether they are exam candidates or not. Details of course materials are given at the foot of this page.
For students who want to be able to take a grade exam at a later stage, they should be aware that this is DEPENDENT on PROGRESS.
If a student has reached a standard where a successful outcome in a music exam is possible then the application procedure to sit an exam is discussed. The student and the teacher (and parents of juniors) decide together whether to go ahead.
For younger students, the wishes of parents (with the best of intentions) for their child to sit an exam are treated secondary to the wishes of the child. Encouragement may be offered by the teacher and parents, however, Dr Mann's students have the final decision if they do not wish to do an exam. Music grade exam's should be voluntary.
Potential exam students of Dr Mann may (very rarely) be advised to withdraw from sitting a grade exam (prior to an application deadline) if the student was not sufficiently prepared.
The vast majority of children (and adults) benefit greatly from the grade exam process, not only from the viewpoint of progressing in their musical ability but also in the development of their character. It takes some courage to face the unknown, to go to a different place, and perform to an examiner. When students are able to do this successfully, it builds their self-esteem and confidence. Students learn to appreciate that if they are prepared for certain situations, they are better equipped to cope with those situations when they arise. Conversely, if you fail to prepare, then prepare to fail!

There are certain rules governing the type of guitar (and strings) which may be used in certain types of guitar exam. Please refer to the following booklet for more details regarding the type of instruments, strings, and details of the repertoire music (books) in the current syllabus:
Trinty Guildhall Guitar Syllabus (Classical & Plectrum) or use the link to the Trinity College website found at the bottom of this page for the on-line syllabus.
There are various external examining bodies (colleges).
Dr Mann holds a Licentiate (teacher's) diploma awarded by Trinity College of Music London, also known recently as Trinity Guildhall. Therefore, Dr Mann's exam students are normally presented for Trinity College grades.
External Trinity Guildhall exams are judged by visiting examiners.
For convenience, there is a choice of three exam sessions a year - spring, summer, and late autumn. Exams take place nationwide at various exam centres.
There are nine levels of practical grades ranging from Initial to grade VIII for both finger-style (classical) and plectrum guitar (the plectrum syllabus may be used by candidates with electric guitars). Any grade level may be tackled depending on the candidate's ability.
See below for details regarding the exam application procedure and links to the Trinity College website for information regarding fees etc.
TRINITY COLLEGE LONDON -
Grade Exam Applications.
Individuals can make applications themselves, however...
It is common procedure for tutors to make bulk applications for multiple students on a single application form with a single payment to cover all the candidates. The application is sent to a local representative for the college.
Dr Mann does not work for Trinity College and does not receive any commissions or payments from Trinity College for exam entries.
Dr Mann will usually submit exam applications on behalf of his own students (at no extra cost) subject to the following:
The candidate must have reached a suitable level of preparedness according to Dr Mann's approval.
The student (parents) and tutor are agreeable to an exam taking place and agree to abide by the rules and regulations of Trinity College.
The student (parents) agree to supply any information needed to complete the Trinity exam application form including the candidate's date of birth. All information is treated in confidence.
Candidates (parents) are asked if they consent to the possibility of exam results being published.
Payment for exam fees must be received by Dr Mann before any application is sent (there are strict application deadlines).
Once an exam appointment has been received (usually about 2 - 3 weeks prior to the exam) the exam time cannot normally be changed. However, candidates are given the opportunity at the time of application to request the avoidance of a particular date. There is much planning and timetabling done by the local Trinity representative to accommodate the visiting examiner and candidates. The venue(s) where the exams take place depend on a number of factors e.g. availability, use of piano, numbers of applicants etc.
Exam candidates (or parents of junior exam candidates) are responsible for their own transport to and from an exam centre.
Dr Mann is unable to refund exam fees to students who are unable to take their exam for any reason. Please refer to the college rules.
All exam participants will in due course receive (usually via their tutor) written comments from the examiner regarding the strengths and/or weaknesses in the exam. Successful candidates also receive a certificate.
Pass is awarded at 60%, Merit at 75%, and Distinction at 87%.
Here is a quick guide to the books required for working towards the Trinity Guildhall Classical Guitar exams (and a suggested book for Plectrum Guitar grades 1 - 3, see syllabus book for full details on all grades): THE FOLLOWING HAS NOW BEEN SUPERCEEDED AND WILL BE UPDATED IN DUE COURSE

1). TRINITY GUILDHALL Guitar Scales & Exercises for Trinity Guildhall Guitar & Plectrum Guitar examinations from 2007 Initial-Grade 8.
2). TRINITY GUILDHALL SIGHT READING PIECES FOR GUITAR. 'Sound at Sight' guitar by Lee Sollory. There are two books: Initial-Grade 3, and Grades 4-8. Please note that some of the sight-reading pieces that involve simultaneously picked bass and melody notes which are not available on adjacent strings are not suitable for plectrum style!
3). (Classical/fingerstyle) TRINITY GUILDHALL Guitar Initial to Grade 8, Pieces & Exercises for Trinity Guildhall examinations (there are nine repertoire books). There are excellent CD recordings of the classical repertoire performed by Carlos Bonell with Abigail James. See the Trinity website for details. I'm certain that students who listen to these CDs will be inspired by both the music and the musicianship - highly recommended.
4). (Plectrum guitar only) 'The real guitar book' by Lee Sollory & Nick Powlesland, Camden Music - London. Volume One contains pieces at the level of grades 1 - 3. There are many other pieces in the Trinity syllabus for your choice.
There are external web-links below to pages on Trinity Guildhall's website information regarding exams, syllabuses, music repertoire (Guitar books), college rules, and exam fees for the various grades. These pages will open in a new window.
Click for information
'Trinity College Website - Guitar'.
Click for information
'Trinity College Website - Exam Fees'
.
Candidates who have already commenced working on any syllabus other than Trinity Guildhall may ask Dr Mann about the possibility of lessons/assistance with their particular syllabus.
Please refer to the Trinity College website for the college rules and regulations for exams along with the terms and conditions regarding exam fees as well as the Trinity Guildhall Guitar Syllabus.
Coming soon - Jazz and Classical Guitar lessons in Surbiton, Kingston upon Thames
Copyright (c) 2009 - 2018 by Dr Bill Mann, West Bridgford, Nottingham